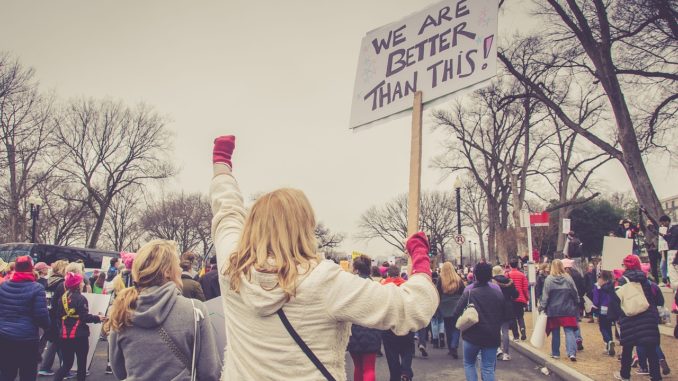 Opening Insights: A Case for Impeachment
The difference between a politician and a statesman is
that a politician thinks about the next election
while the statesman think about the next generation.
JAMES FREEMAN CLARKE
As the fervor intensifies in a nearly perfect US House party line split for pushing forward with impeachment proceedings, it leaves the rest of us asking, "what?" Considering the party line split, it begs the question, is this a political move or does a whole party of lawmakers know something that the other party does not?
Why is it that THE TRUTH is so difficult for anyone to grab hold of? Is it because nobody knows the truth? Or is it because nobody is willing to accept the truth? One thing is for sure, trust in our political figures (either side) is at an all-time low.
That may be why America voted for a non-politician in the last election.
Whether or not it was a wise decision is a purely subjective question, considering what people choose to care about these days.
Informational Insights: What Matters
The following article was published by the The Hill, "a top US political website, read by the White House and more lawmakers than any other site." It was written by Alexander Bolton, Senior Staff Writer for The Hill.
Senate Republicans are taking the House impeachment proceedings against President Trump more seriously as damaging revelations against the president mount and the possibility of a quick dismissal of the charges shrinks.

Earlier this year, GOP senators pledged to quickly quash any articles of impeachment passed by the House. But as the Democrats compile more evidence that Trump withheld military assistance from Ukraine to pressure Ukrainian President Volodymyr Zelensky to investigate former Vice President Joe Biden, they are adopting a more sober tone.

While no Senate Republican has said the charges against Trump rise to the level of being an impeachable offense, many have expressed concern over the drip-drip of damaging revelations.

Sen. Tim Scott (S.C.) was the latest GOP senator to express concerns Wednesday even though he argued that the House has yet to provide any evidence that would support actually removing Trump from office.

Asked Wednesday if he had any concerns at all in light of recent reports on Trump's efforts to pressure Ukraine, Scott said, "There's lot of things that concern me."

But he added, "That's not the question."

"The question on the table is impeachment and that's the question we should get an answer to, and the answer so far is 'For what would we impeach the president?' And the answer is 'I don't see anything for that,' " he said.

At the same time, Scott acknowledged there is pressure on Senate Republicans to take any impeachment articles seriously.

"Everybody wants us to do the right thing. In order to do the right thing, we want to see all that there is," Scott told reporters, explaining that he's not ready to dismiss the House charges out of hand.

Sen. Shelley Moore Capito (R-W.Va.) said Wednesday that the prospect of a quick vote on a motion to dismiss any articles of impeachment against Trump seems unlikely.

"I certainly think we need to hear it out from the House. This is a serious thing. You're considering removing somebody from office or impeaching them in that way. I think you got to hear it," she said.

A Republican senator who requested anonymity to comment on internal party discussions said GOP colleagues are taking the possibility of an impeachment trial seriously as the Democratic-controlled House compiles more evidence.

"We're all becoming much more aware of the process and that's because of the situation we're in with the House," the senator said, who added of colleagues, "I don't think they're going to dismiss it."

"Right now, based on the facts that we have currently, the president will have the support he needs to get through this," the senator added, though the lawmaker said there are enough colleagues who feel they owe it to the public to give the articles of impeachment serious consideration.

It's a more measured tone than Republicans used when the House was considering impeachment proceedings based on former special counsel Robert Mueller's lengthy investigation into possible collusion between the Trump campaign and Russia in the 2016 presidential election and subsequent attempts to obstruct his investigation.

"I think it would be disposed of very quickly," Senate Judiciary Committee Chairman Lindsey Graham (R-S.C.) said in late May.
Sen. Thom Tillis (R-N.C.) at the time asked, "Why on earth would we give a platform to something that I judge as a purely political exercise?"

Now Senate Republicans are treating the allegations that Trump improperly withheld military assistance to Ukraine in an attempt to gain a political favor much more seriously than they did the findings of the Mueller report.

Senate Republicans initially dismissed the release of the transcript of the July 25 phone call between Trump and Zelensky as a nothing burger.

GOP leaders labeled Speaker Nancy Pelosi's (D-Calif.) launch of a formal impeachment process a political mistake committed because of intense pressure from her liberal base.

Senate Majority Leader Mitch McConnell (R-Ky.) slammed Pelosi on Sept. 24 for making a "rush to judgment" and said she "finally crumbled" to the pressure from "her far-left conference."

Senate Majority Whip John Thune (S.D.), the No. 2 Senate Republican, said in late September the House impeachment push was "a risky strategy on their part."

"I know they're under a lot of pressure to do it, but if you're the leadership over there, you got to think long and hard about what the implications are if it looks like you're overreaching," he said.

Senate Republicans have since seen several serious revelations emerge, and support for impeachment has ticked upward in recent polls.

One pivotal moment came last week when William Taylor, the acting U.S. ambassador to Ukraine, testified that he was told by Gordon Sondland, the U.S. ambassador to the European Union, that Trump wanted to withhold military aid from Ukraine unless Zelensky agreed to a corruption investigation.

Another came days before, when acting White House chief of staff Mick Mulvaney appeared to confirm at a press conference that military aid was withheld as leverage to push Ukraine to investigate corruption, although he later tried to walk back the statement.

McConnell on Tuesday declined to echo White House language calling the House impeachment probe "illegitimate and unconstitutional."

Instead, he observed that "impeachment as a practical matter is whatever a majority of the House decides it is at any given moment."

After Taylor's damning testimony, Thune admitted to reporters: "The picture coming out of it based on the reporting that we've seen is, yeah, I would say not a good one."

On Wednesday, another blow against the president came when Deputy Secretary of State John Sullivan, Trump's nominee to serve as ambassador to Russia, testified before the Senate Foreign Relations Committee that he was aware of an effort by Rudy Giuliani, Trump's personal lawyer, to remove Marie Yovanovitch as the U.S. ambassador to Ukraine.

Sen. Marco Rubio (R-Fla.), a member of the Foreign Relations Committee, on Wednesday said it would be "inappropriate" if Giuliani or anyone else spread misinformation to remove a U.S. ambassador.

"I would be concerned if a U.S. ambassador anywhere in the world is the subject of a disinformation campaign directed from abroad or from any interest, for that matter," he said. "That would be something I wouldn't be happy about. That would be something I would find to be inappropriate."

Rubio also said it is important that he and his Senate colleagues carefully weigh the facts compiled by the House investigation.

"It's important for us to make decisions based on all of the facts taken in context and taken together," said Rubio, who noted that all of the facts and evidence compiled by House investigators have yet to be shared with the Senate.

https://thehill.com/homenews/senate/468246-senate-gop-shifts-tone-on-impeachment
This article originally appeared in US NEWS: Senate GOP shifts tone on impeachment
Possibilities for Consideration: Statesman vs Politician
The opening quote by James Freeman Clarke sums it up nicely. "The difference between a politician and a statesman is that a politician thinks about the next election while the statesman think about the next generation."
In a United States filled with Americans who think as Clarke did, his quote may be very meaningful, but the truth of the matter is, we have forgotten how to look beyond the next horizon. We have forgotten what THE TRUTH looks like. Our problem is not the lawmakers who hold office and debate our policies, our problem is the people who voted the lawmakers in.
What if there was a solution that made better Americans, who could examine how their actions would effect the next generation, and cared enough to do something about it?
Add Your Insight
Take a moment and examine…
As you reviewed the material above, what stood out to you?
What is the potential impact, economically and/or socially?
What action is needed to stop or support this idea?
You may want to consider whether you:

want to be aware of,
should become supportive of,
would want to be active in this topic?
I have been impressed with the urgency of doing. Knowing is not enough; we must apply.
Being willing is not enough; we must do.
LEONARDO DA VINCI