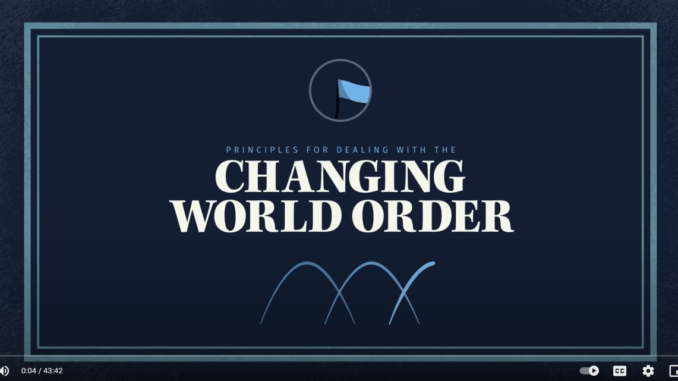 Opening Insights: Why Economies Fail
Ray Dalio is Founder, Co-CIO and Member of the Bridgewater Board, which, over the last forty years, has become the largest and best-performing hedge fund in the world. Dalio has appeared on the Time 100 list of the most influential people in the world as well as the Bloomberg Markets list of the 50 most influential people. He is also #1 New York Times bestselling author of Principles, Principles for Navigating Big Debt Crises, and Principles for Dealing with the Changing World Order. He lives with his family in Connecticut.
Ray Dalio's 5 guiding principles for work:
Working for what he wanted, not for what others wanted him to do
Coming up with the best independent opinions he could conceive
Stress-testing his opinions by having the smartest people finding the flaws in his thinking
Being wary about overconfidence
Good at not knowing
I believe the world is changing in big ways that haven't happened before in our lifetimes but have many times in history, so I knew I needed to study past changes to understand what is happening now and help me to anticipate what is likely to happen. I shared what I learned in my book,

Principles for Dealing with the Changing World Order, and my hope is that this animation gives people an easy way to understand the key ideas from the book in a simple and entertaining way.

In the first 18 minutes, you'll get the gist of what drives the "Big Cycle" of rise and decline of nations through time and where we now are in that cycle.

If you give me 20 minutes more to watch the whole thing, and I will show you how the big cycle worked across the last 500 years of history—and what the current world leading power, the United States, needs to do to remain strong. - Ray Dalio

https://www.youtube.com/watch?v=xguam0TKMw8&list=TLPQMjAwNTIwMjKgpWCc-xABiw
What is happening NOW???
Loss of Free speech – Public Choices are being suppressed
Inflation – Value of the Dollar is vanishing
Tracking – Phone tracking
Abortions – Right to life
Food Shortage – Supply and distribution problems
Fertilizer Shortage – Can't grow crops
Fuel Shortage – Freedom to travel and haul food
Health Care is crippled – Don't care for patients
Water Shortage is eminent – Dams are empty
Electricity Shortages – Hydroelectric power is gone
Carbon Electricity plants are being shut down
Crime – Rising exponentially
But the problem is actually much bigger than this list as the author explains.
Informational Insights: The Real Problem
A few years ago, Ray Dalio noticed a confluence of political and economic conditions he hadn't encountered before. They included huge debts and zero or near-zero interest rates that led to massive printing of money in the world's three major reserve currencies; big political and social conflicts within countries, especially the US, due to the largest wealth, political, and values disparities in more than 100 years; and the rising of a world power (China) to challenge the existing world power (US) and the existing world order. The last time that this confluence occurred was between 1930 and 1945. This realization sent Dalio on a search for the repeating patterns and cause/effect relationships underlying all major changes in wealth and power over the last 500 years.

In this remarkable and timely addition to his Principles series, Dalio brings readers along for his study of the major empires—including the Dutch, the British, and the American—putting into perspective the "Big Cycle" that has driven the successes and failures of all the world's major countries throughout history. He reveals the timeless and universal forces behind these shifts and uses them to look into the future, offering practical principles for positioning oneself for what's ahead.

https://www.simonandschuster.com/books/Principles-for-Dealing-with-the-Changing-World-Order/Ray-Dalio/Principles/9781982160272
Possibilities for Consideration:
Today we are not only dealing with the shifting / rotating the Order of the Countries in Power but we are in the misted of the Great Reset.
As you listened to his 8 factors of measurement did you notice the importance of education to innovation which creates commodities ... commerce. This is where can rebuild our communities.... Commerce.
Co-Lab™ Institutes and Visionaries together have a responsibility to the communities they represent and serve
– to uphold ethical principles and ensure
the rebuilding of commerce to rebuild trust-based communities for stable economy...
not focus on the economy ... focus on the economy is the real problem.
We need to focus on commerce. 
Add Your Insights:
Take a moment and examine…
As you reviewed the material above, what stood out to you?
What is the potential impact, economically and/or socially?
What action is needed to stop or support this idea?
You may want to consider whether you:

want to be aware of,
should become supportive of,
would want to be active in this topic?
I have been impressed with the urgency of doing. Knowing is not enough; we must apply.
Being willing is not enough; we must do.
LEONARDO DA VINCI