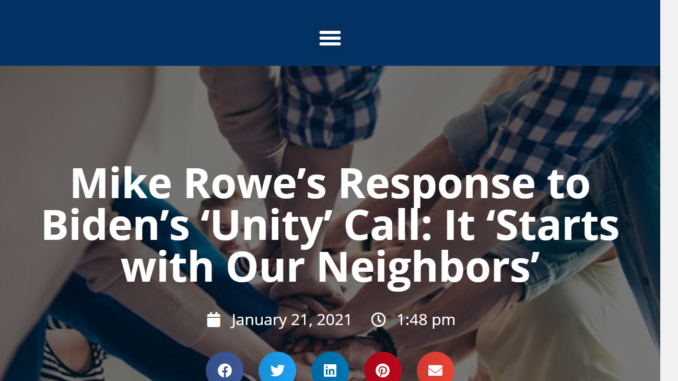 Opening Insights: Mike Rowe
There are two things a person should never be angry at,
what they can help,
and what they cannot.
PLATO
The following article was published by the Christian News Journal, "a faith-based news website that carries news, feature articles with a concentration on current events, socio-political issues, religious persecution and entertainment, etc." It was written by Maureen Mackey, "writer, editor, and digital content strategist in the New York City area."
Informational Insights: A Plea for Unity
Democrat Joseph R. Biden Jr., sworn in on Wednesday as the nation's 46th president, has called for unity in America.

Mike Rowe, the well-known host of "Dirty Jobs," "Six Degrees with Mike Rowe," and "Returning the Favor," has long advocated for common-sense, hands-on solutions to many problems in our country—and he weighed in on the "macro" plea for "unity."

"Honestly, I think of [John F.] Kennedy [and his famous line], 'Ask not what your country can do for you, ask what you can do for your country'… I'm saying that this is, 'Ask not what you can do for your country, ask what you can do for your neighbor.' It's our neighbors who are hurting," Rowe said on "Fox News Primetime" on Wednesday night.

"It's our neighbors who are in trouble," he said. "I don't know about 'unity.' I don't know about conformity. That's all macro thinking. This is micro thinking. This is real small. And I don't think we get out of this because of the government. We're not going to get out of it without the government—but the government can't possibly take care of what ails us right now."

"This is biblical," said Rowe. "And I'm not a religious guy, but a plague is a biblical thing … We're back on our heels as a people."

He said that the notion of moving forward—of healing, of helping, of fixing our nation—"this idea starts with our neighbors, and it starts in our zip code. There's something to that. If we're going to unify, it has to begin there."

The idea of "unity" doesn't and won't magically appear overnight, Rowe also said.

Rather, "We've got to look for leaders in places we typically don't find them, and we have to look for examples in places where we don't expect to discover them."

Rowe oversees the Mike Rowe WORKS Foundation, which he started in 2008 to advocate for skilled labor in America. Skilled workers "keep our polite society humming along," he notes on the foundation's website. They find "opportunity where no one else [thinks] to look."

"We have to reconnect the average American with the value of a skilled workforce," Rowe also says. "Only then will the next generation aspire to do the work at hand."

Rowe is also the host of the hugely popular podcast, "The Way I Heard It," as well as the author of a book based on it.

https://christiannewsjournal.com/mike-rowes-response-to-bidens-unity-call-it-starts-with-our-neighbors/
This article originally appeared in CHRISTIAN NEWS JOURNAL: Mike Rowe's Response to Biden's 'Unity' Call: It 'Starts with Our Neighbors'
AwareComm's pre-employment training program creates the environment for those with an entrepreneurial mindset to experience and perfect the creation of new career opportunities in existing and developing markets. The re-investment in our workforce can be accomplished with a Co-Lab™ that helps people develop an entrepreneurial mindset.
Possibilities for Consideration: Setting Things Right
The technology tools that many rely upon to conduct their daily lives, business and education have turned against them. Technology platforms are removing American access to freedom of speech at an alarming rate. Their power is such that any alternatives to their choke-hold on individuals are swiftly eliminated.
To stand against the immense power behind the technology, internet and financial organizations in charge of our government and education institutions we must get smarter and do it together.
AwareComm® offers a platform that provides the resources and the guidance to meet this challenge.
It's not just that we need a solution, in this new environment nobody will trust, everybody is angry, nobody listens, commerce stops, efficiency diminishes, nobody cares.
Our culture consists of perception, attitude, thinking and behavior and we have created a culture now rooted in distrust, fear and anger.
The following models illustrate the psychology of fear and control
being used to force America to its knees.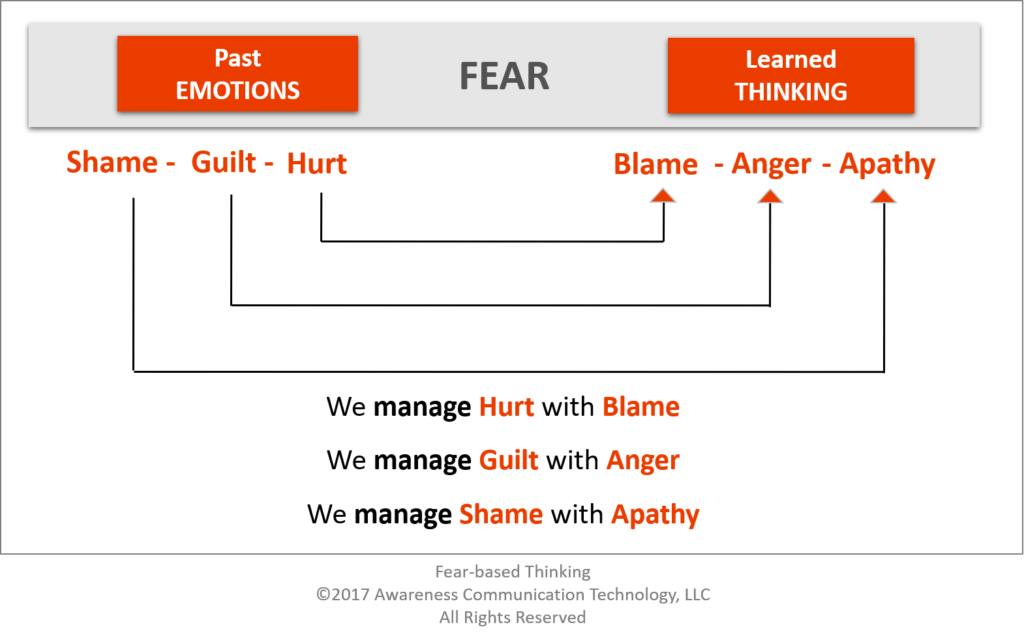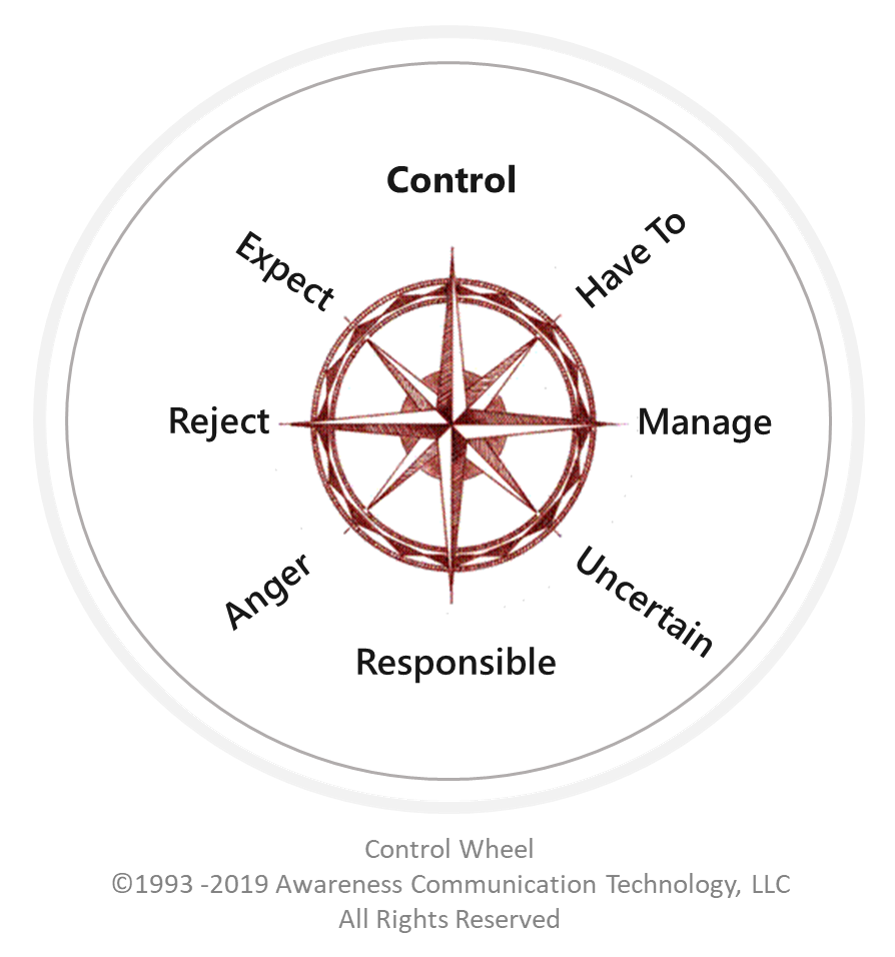 Whatever we do, however we do it, this becomes the basis for how we will build relationships at home, work, worship and play. These models will permeate all dimensions of our lives and must be reversed if our communities and our country are to survive.
The Real Solution: Founded in Spiritual Principles
A real solution, fully developed (tested, proven and paid for), is found in AwareComm's proprietary Adaptive Intelligence (AdI™) algorithm.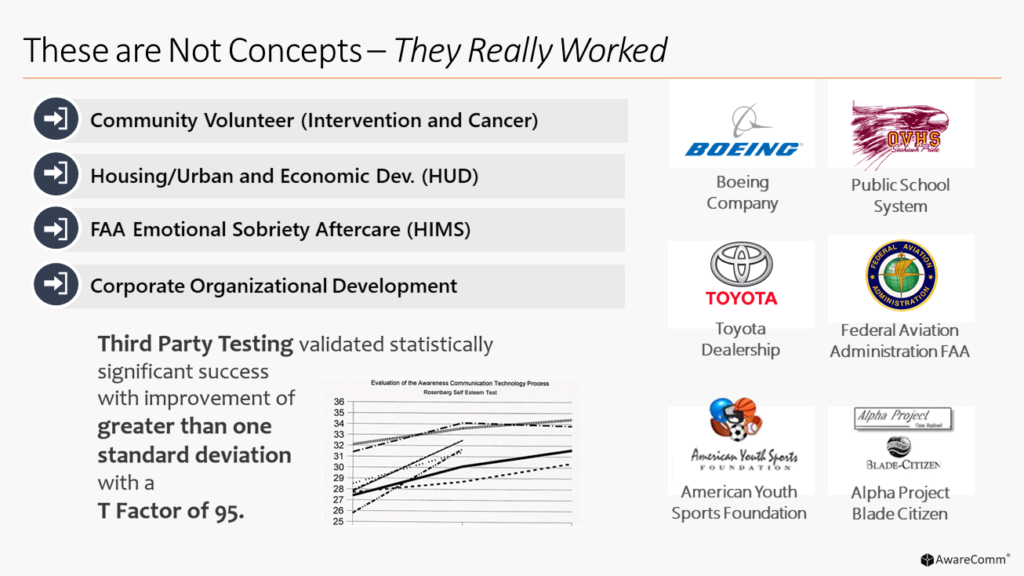 The AdI™ algorithm aligns with the intent of Pope Francis's call for a 'Good Algorithm,' to reverse the damage done by the irresponsible use of technology.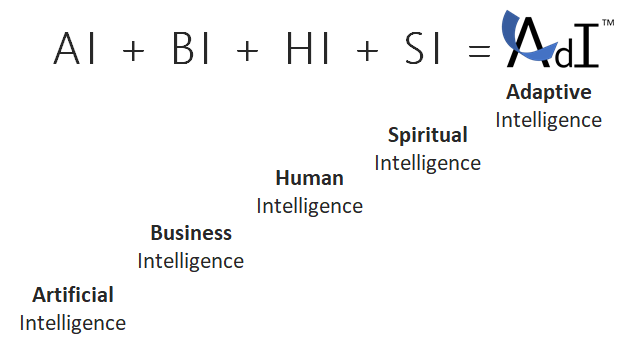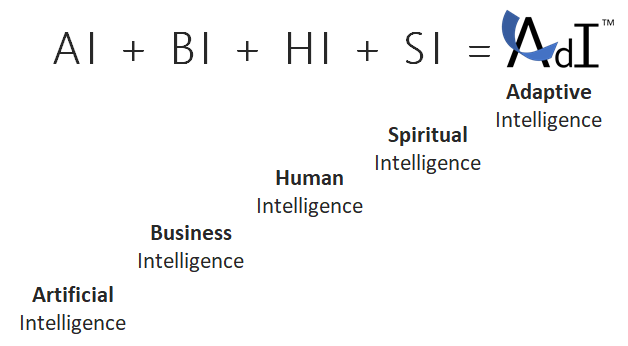 Rebuilding Community Commerce - - Rebuilding the Soul of a Community
AwareComm's AdI™ algorithm is available in a community Collaboration Laboratory (Co-Lab™) Research and ePublishing Institute, where people learn to take charge of their communities by transcending adversity to diversity and solidarity through the application of responsible commerce. Success is assured by applying the principles of Adaptive Intelligence to entrepreneurial thinking using socially responsible capitalism.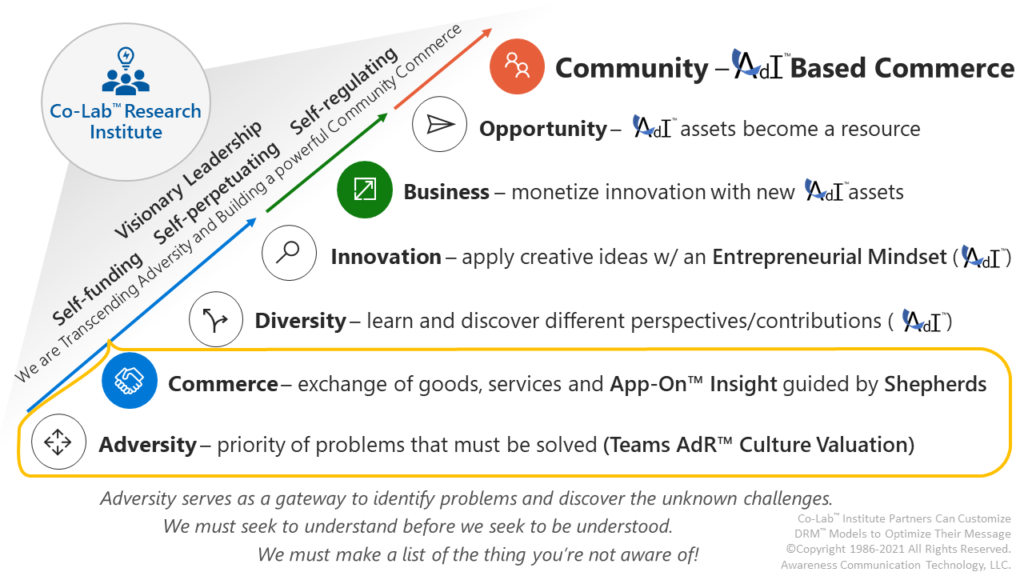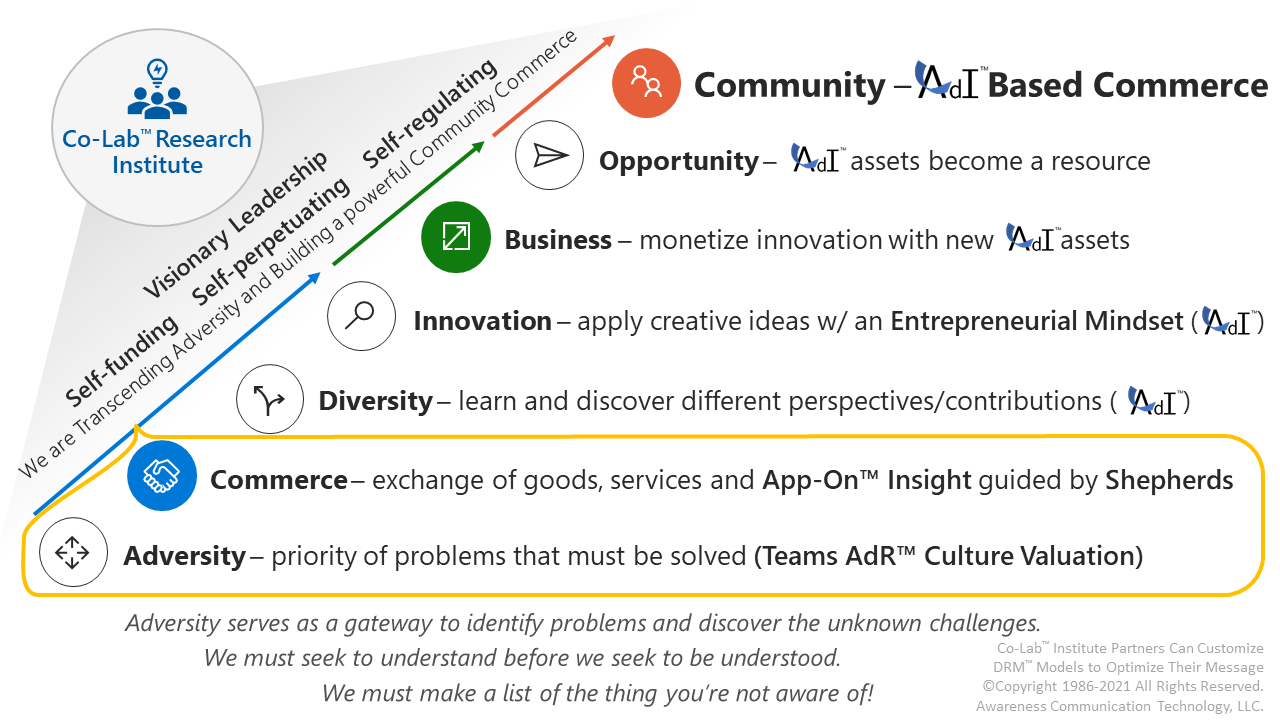 What comes from an established foundation of commerce rooted in spiritual principles and AdI™ is a new business model. This business model, for the application of Socially Responsible Capitalism, is our theme and driving inspiration.
A Co-Lab™ is the implementation mechanism of the result of 30+ years of field research.
Co-Labs™ create an environment conducive to learning, solidarity and change (old ideas are more quickly learned and new ideas are more quickly accepted and implemented).
Our Next Step
The AwareComm® Team is attracting partners in order to awaken in the people a desire for peace and solidarity as a way to fulfill their personal needs.
Through a careful blend of AI + BI + HI + SI the Co-Lab™ Research Institute has the correct balance of technology, methodology, human understanding, spiritual principles and data science to put us on the right track to individual social and cultural empowerment.
Due Diligence classes offer a deeper dive into the Co-Lab™ Research and ePublishing Institute to determine if this philosophy is effective for your community. You will learn:
The logical power of the AI + BI + HI + SI = AdI™ algorithm for communication and learning
The communication power of Co-Lab™ Research and ePublishing Institute to provide secure:

self-funding
self-perpetuating
self-regulating networks

The commerce power of Socially Responsible Capitalism, blending nonprofit and commercial applications
The application of Social Partnerships, bringing ethical business principles to overcome social challenges
The joy, satisfaction and pride of taking a role in returning our world to a state of freedom and opportunity - being proud to be a patriot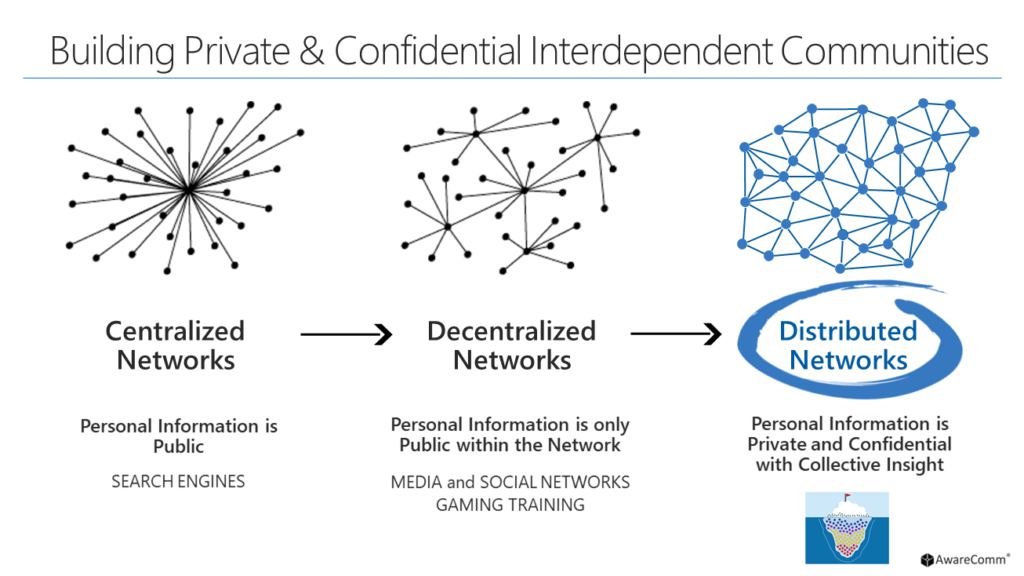 Inviting Potential Partners
For more information
and to receive your invitation to a Due Diligence class
email: SOS@AwareComm.com