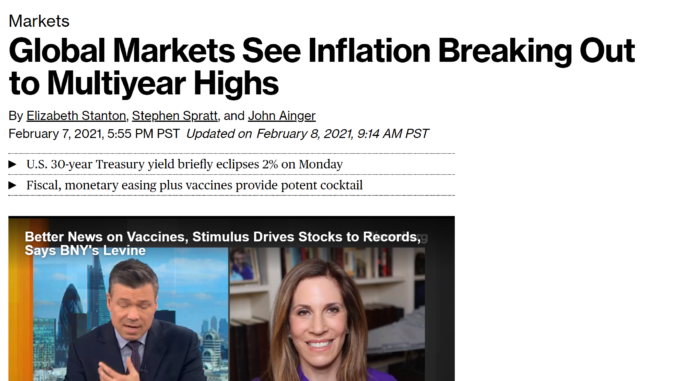 Opening Insights: Inflation is Coming
We cannot let the cure be worse than the problem itself.
DONALD TRUMP
The following article was published by Bloomberg, a "global leader in business and financial data, news and insight[.]" It was written by Elizabeth Stanton, Stephen Spratt, and John Ainger.
Informational Insights: Inflation Returns
Global markets from U.S. and European bonds to stocks and oil are sending a clear signal: inflation is finally coming back.

The market-implied pace of U.S. consumer-price increases briefly accelerated to the fastest since 2014, and 30-year Treasury yields temporarily topped 2% for the first time in a year as rising expectations for an economic recovery fueled an oil rally. Over in Europe, a swap-market gauge of future inflation is close to its highest level since 2019.

The S&P 500 index of U.S. equities has notched fresh highs, while the Stoxx Europe 600 Index built on its best weekly gain since mid-November. Brent crude futures rallied more than 1% on Monday, adding to last week's 6.2% advance. It's all coming ahead of a report Wednesday that's forecast to show U.S. consumer prices rising at a quickening pace.

The market moves signal that investors are more bullish on inflation than they have been for years, betting on the global economy bouncing back as huge fiscal stimulus programs spur demand and the vaccine rollout gathers pace. That's causing a dramatic repricing of bonds most sensitive to rising prices, raising longer-term borrowing costs.

"It's hard to resist this reflation trade at the moment," said Christoph Rieger, head of fixed-rate strategy at Commerzbank AG. "With policy all one-way and U.S. refunding coming up this week, we may require some more concessions."

Breakeven Rally

Of course, for central bankers, there's good inflation and bad inflation. A shortage of the chips that fuel everything from smartphones to cars and TVs could be an early indicator of problematic price rises on the horizon, but for now markets aren't differentiating.

The U.S. 10-year breakeven rate -- the yield difference between the benchmark Treasury note and its inflation-protected counterpart -- touched 2.216% Monday before retreating, according to data compiled by Bloomberg. The gauge broke above 2% this year amid expectations of a successful rollout of coronavirus vaccinations and a U.S. stimulus package.

Other key reflation metrics were also on the move Monday, with the Treasury curve hitting the steepest levels since 2015 and oil prices climbing. U.S. inflation figures this week are projected to show consumer prices climbed last month at a 1.5% annual pace, the fastest since March, according to a Bloomberg survey of economists.

Price pressures within the commodity and goods sector may stem more from pandemic-related supply issues than economic confidence and demand, meaning this could peter out once equilibrium returns. Equally, it has the potential to generate the type of inflation that isn't so easily corralled by tweaks to monetary policy should it show signs of breaking out.

The Federal Reserve targets an inflation measure that historically has trailed the rise in the consumer price index by about 40 basis points on average, suggesting that the breakeven rate needs to reach about 2.40% to express confidence that officials will reach their goal.

The bond-market inflation gauge has climbed from a low of less than 0.5% last March, when pandemic-related turmoil rocked markets. It has since advanced for nine of the past 10 months, first supported by a combination of aggressive monetary easing from the Fed.

In recent months, the breakeven rate also drew support from Covid vaccine-related developments and Democrat Joe Biden's victory in the U.S. election, which lifted expectations for a more-generous fiscal stimulus package. Oil prices rallying to a one-year high amid tightening global supply and an improving outlook for demand has given a further boost to inflation expectations.

Europe, U.K.

In Europe, five-year, five-year inflation swaps -- a gauge of expectations for price rises over the next decade -- closed at 1.36%, not far below the highest closing level since May 2019. The reflation trade is also driving interest-rate swaps -- with the 30-year rate jumping 10 basis points last week, the most since August.

A possible new government in Italy under former European Central Bank President Mario Draghi is helping to boost economic prospects there.

And in the U.K., investors have priced out the chance of the Bank of England cutting interest rates below 0%, with the nation's vaccine program rocketing along.

"Inflationary moves are the right moves," said Peter Chatwell, head of multi-asset strategy for Mizuho International Plc. "When economic growth accelerates and goes above trend, that is when the inflation signals will really start flashing red."

https://www.bloomberg.com/news/articles/2021-02-08/u-s-10-year-inflation-breakeven-advances-to-highest-since-2014
This article originally appeared on February 7, 2021 on BLOOMBERG: Global Markets See Inflation Breaking Out to Multiyear Highs
Possibilities for Consideration: A Power Too Great
To stand against the immense power behind the technology, internet and financial organizations in charge of our government, media and education institutions we must get smarter and do it together.
AwareComm® offers a platform that provides the resources and the guidance to meet this challenge.
It's not just that we need a solution, in this new environment nobody will trust, everybody is angry, nobody listens, commerce stops, efficiency diminishes, nobody cares.
Our culture consists of perception, attitude, thinking and behavior and we have created a culture now rooted in distrust, fear and anger.
The following models illustrate the psychology of fear and control
being used to force America to its knees.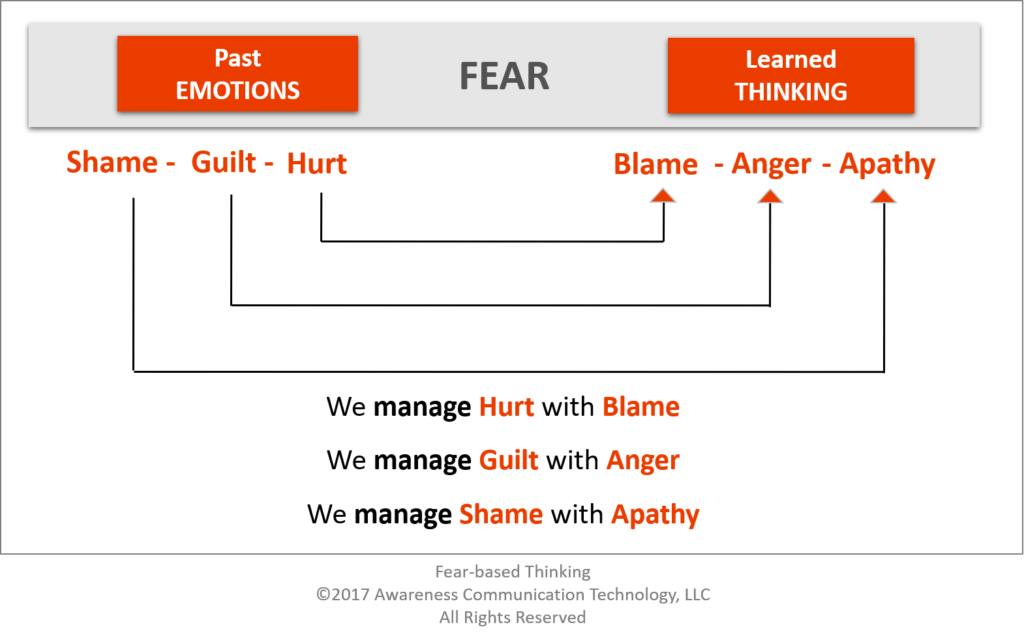 Once people are conditioned emotionally to accept fear as a foundation perception, they become willing candidates to accept the principles of control. Thus, they become slaves to the authority, that being government, propaganda or social media influence.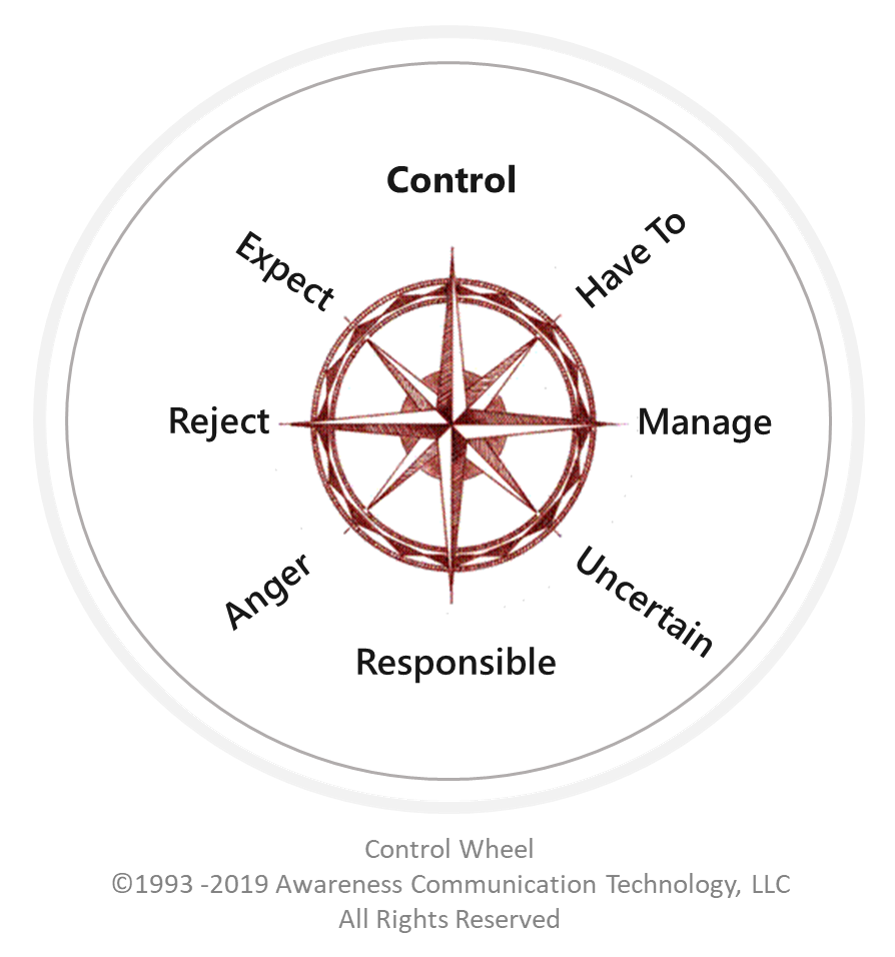 Whatever we do, however we do it, this becomes the basis for how we will build relationships at home, work, worship and play. These models will permeate all dimensions of our lives and must be reversed if our communities and our country are to survive.
The Real Solution: Founded in Spiritual Principles
A real solution, fully developed (tested, proven and paid for), is found in AwareComm's proprietary Adaptive Intelligence (AdI™) algorithm.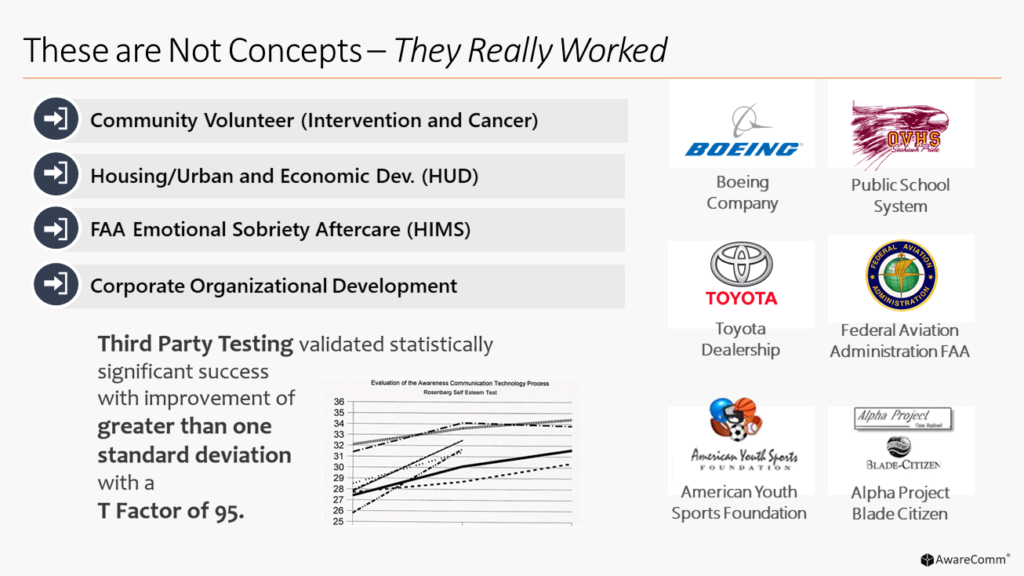 The AdI™ algorithm aligns with the intent of Pope Francis's call for a 'Good Algorithm,' to reverse the damage done by the irresponsible use of technology.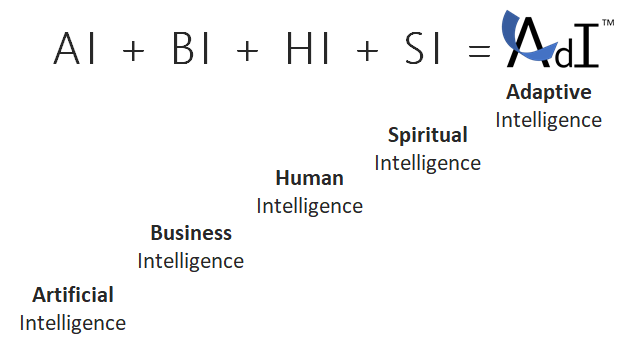 Rebuilding Community Commerce - - Rebuilding the Soul of a Community
AwareComm's AdI™ algorithm is available in a community Collaboration Laboratory (Co-Lab™) Research and ePublishing Institute, where people learn to take charge of their communities by transcending adversity to diversity and solidarity through the application of responsible commerce. Success is assured by applying the principles of Adaptive Intelligence to entrepreneurial thinking using socially responsible capitalism.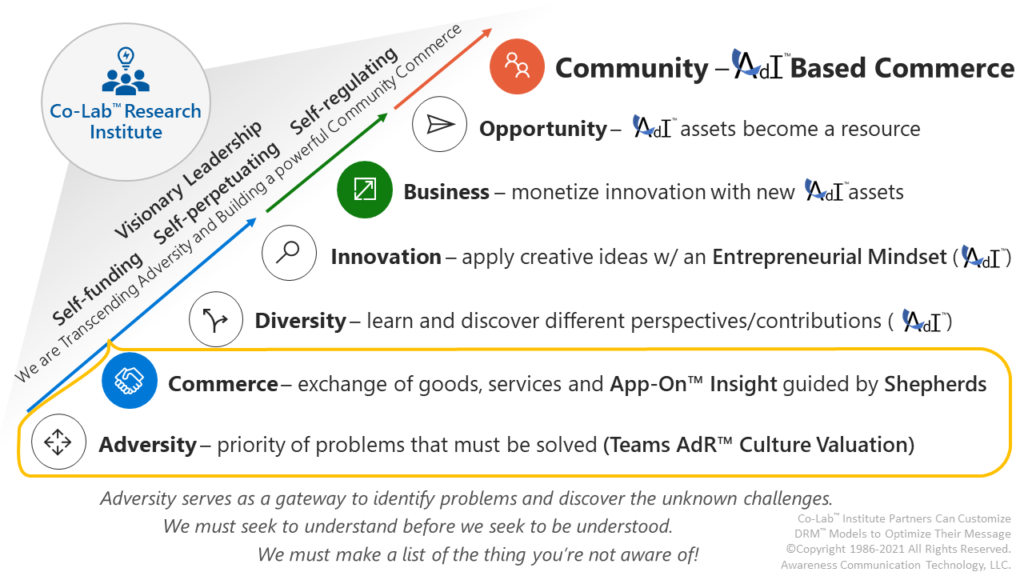 What comes from an established foundation of commerce rooted in spiritual principles and AdI™ is a new business model. This business model, for the application of Socially Responsible Capitalism, is our theme and driving inspiration.
A Co-Lab™ is the implementation mechanism of the result of 30+ years of field research.
Co-Labs™ create an environment conducive to learning, solidarity and change (old ideas are more quickly learned and new ideas are more quickly accepted and implemented).
Our Next Step
The AwareComm® Team is attracting partners in order to awaken in the people a desire for peace and solidarity as a way to fulfill their personal needs.
Through a careful blend of AI + BI + HI + SI the Co-Lab™ Research Institute has the correct balance of technology, methodology, human understanding, spiritual principles and data science to put us on the right track to individual social and cultural empowerment.
Due Diligence classes offer a deeper dive into the Co-Lab™ Research and ePublishing Institute to determine if this philosophy is effective for your community. You will learn:
The logical power of the AI + BI + HI + SI = AdI™ algorithm for communication and learning
The communication power of Co-Lab™ Research and ePublishing Institute to provide secure:

self-funding
self-perpetuating
self-regulating networks

The commerce power of Socially Responsible Capitalism, blending nonprofit and commercial applications
The application of Social Partnerships, bringing ethical business principles to overcome social challenges
The joy, satisfaction and pride of taking a role in returning our world to a state of freedom and opportunity - being proud to be a patriot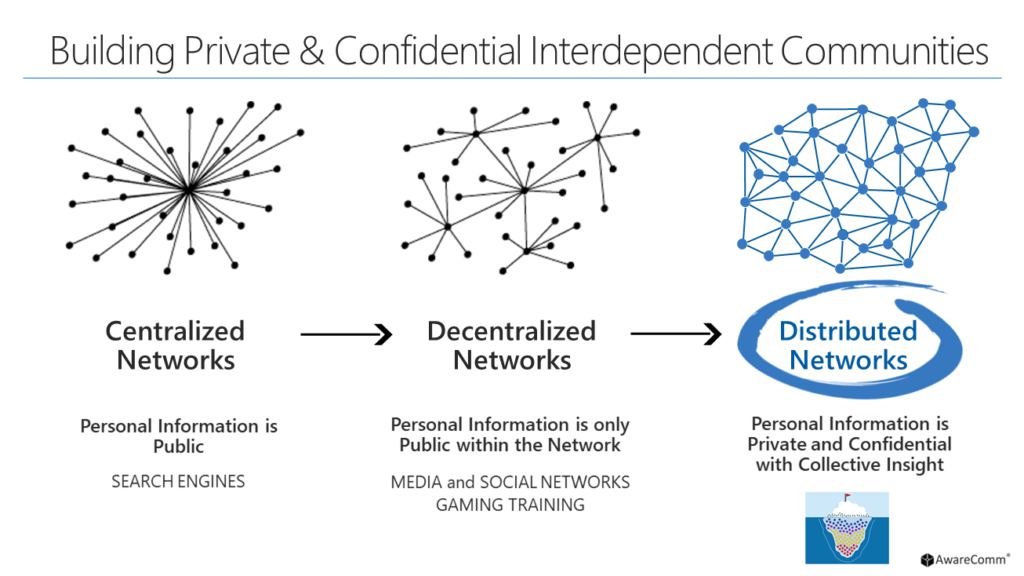 Inviting Potential Partners
For more information
and to receive your invitation to a Due Diligence class
email: SOS@AwareComm.com