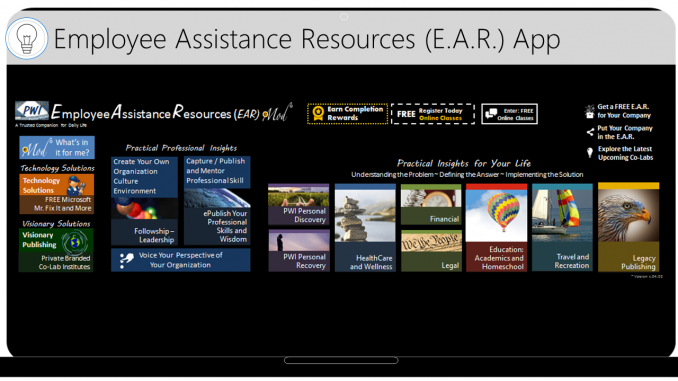 Today...
Addictive tech is part of the mainstream
in a way that addictive substances never will be. 
ADAM ALTER
There is a growing shortage of competent and functional employees. Addiction is on the rise – drugs, alcohol and technology.
There is an increasing need for Businesses, Organizations and Schools (B.O.S.) to develop and maintain drug/alcohol free cultures. B.O.S. are looking for emotionally stable employees who are loyal, dedicated and mature, open and ready for change/growth. To address this need, Awareness Communication Technology, LLC, a Microsoft Senior Research and Development Partner with a team of top developers, created an advanced Employee Assistance Resource (E.A.R) for its loyal SMB Customers.

The E.A.R. is distributed FREE to AwareComm's Microsoft Network and its 430,000 partners.
Future Focused
B.O.S. participating in the E.A.R. are committed to Social Cultural Responsibility. They have access to resources that support Social Cultural Responsibility to address the individual and collective challenges facing humanity – socially, economically, financially and culturally. The E.A.R. opens the door to drive the wave of AwareComm® and Microsoft's shared Commitment to Global Empowerment announced by Satya Nadella at The Ignite Conference in Atlanta.
Direct and Grow the Narrative
The E.A.R. offers free Human Resource (HR) App-ortunities to B.O.S. It provides Research Applications that give HR departments the power to understand and be clearly informed of the narrative. These resources include:
Human Resources Cultural Assessment
Employee Problem-Answer-Solution Contribution
Off-Hour Professional/Personal Development Resources
Off-Hour Addiction Recognition and Self-Assessment Resources
Off-Hour Addiction Correction and On-Demand Support Resources
Additionally, the E.A.R. provides a gateway for B.O.S. to provide measurable Social Cultural solutions for their employees, employees' families and communities.
It provides B.O.S. with an VOICE to speak and an EAR to hear local communities.
It provides the power to support and direct the narrative rather than control it.
The E.A.R. is used by B.O.S. to build and create a viable, loyal, drug/alcohol free entry-level applicant pool (new employee network).
The Free E.A.R. App is scalable and customizable for each B.O.S. Additionally, organizations may elect to partner with developers to ePackage and Distribute their training into the E.A.R. and customize it for their training and marketing purposes.
Finding Solutions
Make a Difference to Your Workplace, Organization, Community, School and Home!
JOIN The PWI Research Team in exploring additional possibilities, discoveries and collaborative solutions.
Share your comments, insights and discoveries below.